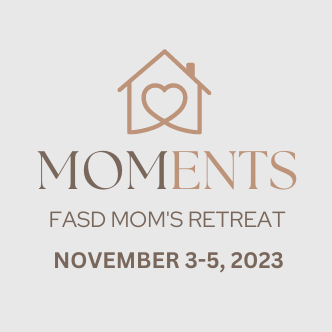 We are moms who understand the daily life of caring for someone living with an FASD. From all ages, newborns to adults, and all life stages….even if they happen all in the same hour!
You will find speakers that inspire you, time to relax and refresh, and fellowship with other women. This retreat offers large group and breakout sessions, fun activities, free time, friendship, laughter, and joy! We know you will find the time and space to relax, rejuvenate, connect and create community.
Come enjoy the beauty of Forest Park and the gift of sharing life with other women seeking the best life for their loved ones living with an FASD.
If you have any questions about the women's retreat or registration, email info@dreamacresfasdcommunity.org
RETREAT DETAILS:
Registration: Online – Opened July 29th
Cost: $200 per person – Moms/Female caregivers (18+) of kids/adults (no matter what age)
Location: Dream Acres at Forest Park Conference and Retreat Center, 3158 SE 10th Street, Topeka, KS 66607 . Click Here for directions.
Arrive & Check-In: Friday, 1:00-3:00 pm, November 3rd.
Departure: Sunday at 12:00 pm, November 5th.
Email info@dreamacresfasdcommunity.org with questions.
Registration includes:
Lodging Friday-Sunday
All meals from Friday evening to Sunday morning.
Retreat T-shirt & surprise goodies!
Snacks and Drinks
Speakers
On-site activities
PLEASE CLICK  "REGISTER HERE" TO BE TAKEN TO THE ONLINE REGISTRATION. AFTER THE FORM IS COMPLETED, YOU WILL BE GIVEN A LINK TO A SECURE CHECKOUT.
TRAVEL OPTIONS
Air Travel
With two airports within an hour's drive, it is easy to travel to and from Topeka. The Kansas City International Airport (MCI) is east of Topeka and is serviced by Air Canada, AirTran, Alaska Airlines, American Airlines, Delta, Frontier, Sea Port Airlines, Southwest, United, and U.S. Airways. The Kansas City International Airport has nonstop flights to 45 cities throughout the United States, Canada and Mexico.
The Manhattan Regional Airport (MHK) is west of Topeka and is serviced by American Eagle, a regional affiliate of American Airlines. This airport offers round-trip direct flights between Dallas/Fort Worth International Airport (DFW) and Chicago O'Hare International Airport (ORD).
Train
Arrive in Topeka by the National Railroad. Amtrak provides service to Topeka from hundreds of destinations. The Amtrak Station and waiting room is at 500 SE Holliday Place. Purchase tickets at the station, online or by phone at 1-800-872-7245.  The station's local phone number is 785-357-5362.
Whether traveling via air into Kansas City or train into Topeka, we are planning to coordinate optional shuttle service for those that do not get their own rental vehicle.
REFUND POLICY
Registration is nonrefundable. Please remember our camp staff and all accommodations for you have already been expensed in expectation of your arrival camp. This includes unexpected illness and health related circumstances. However, we do want to do our best to accommodate everyone. If there is a waitlist and we can fill your spot, we will provide a refund. If there is no one on the waitlist to fill your spot and you are unable to find someone to fill your spot, no refund will be received.
DONATE TO THE RETREAT
If you are able to Donate to this retreat, it will assist other women in being able to experience this weekend to step away and focus on self-care, connection, and community.